The Data-Command Info-Portal™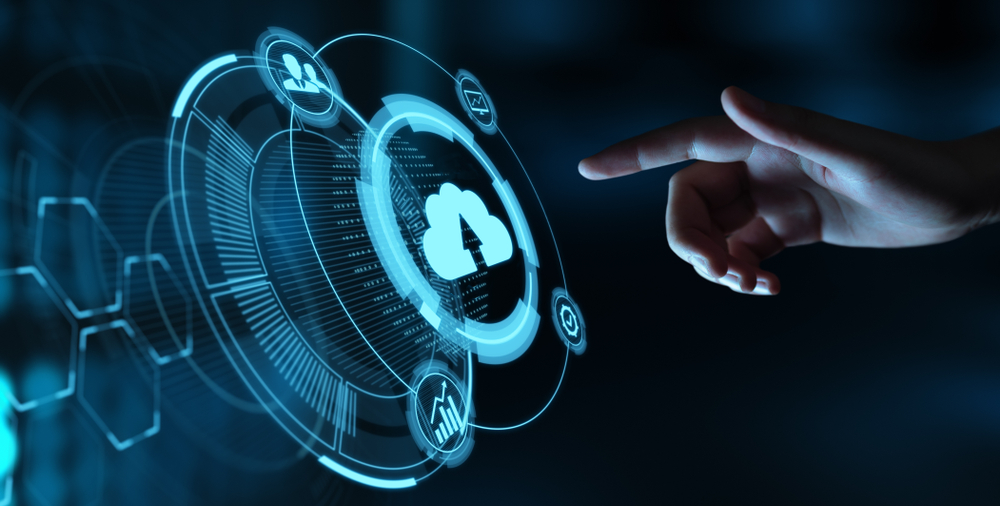 Our Info-Portal™ is the heart of Data-Command's cloud based solution for your remote monitoring and data collection needs. Our secure, reliable and cost effective solution is easily accessible from a smartphone, tablet or computer. The Info-Portal™ integrates with your existing equipment, SCADA and PLC systems, allowing you to access and manage your plant's information. 
Info-Portal Notifications
Notifications are a large part of your peace of mind. 
With Data-Command keeping you informed of things that are
out of range, you can focus on other tasks.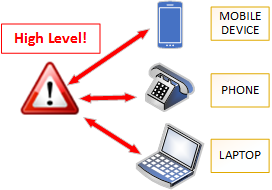 Any number of users can receive notifications in any order. 
Once a notification is received a user can acknowledge
the alert and a manager can rest easy knowing the issue is being handled. Notifications are historically logged and managed on the Info-Portal. 
Now that you have all the information you need to make
good decisions, Data-Command pulls it all together
in one secure platform.

You can securely log into our Info-Portal from wherever you are, whenever you want. Once logged in you will see your information on customized displays. Additionally, you can generate customized reports and see trends.
Features of Info-Portal™
·        Enhanced security and reliability – Access fully encrypted SSL connection, multifactor authentication and a 99.99% availability track record.
·        Customized displays – View equipment information in displays that mimic your unique processes and plant layouts.
·        Remote monitoring – Designed for mobile and desktop, the Info-PortalTM is accessible from any device anywhere you have internet access. View your plant operations, manage your team and ensure everything is running smoothly 24/7 from your office, on the road or in the comfort of your own home.
·        Unlimited user access – Add any member of your team and customize each person's ability to receive alerts, analyze data and monitor operations.
·        Alerts – Set up customized text, email and voice call alerts for specific users. Build in escalation layers that delay alerts for specific people, allowing first responders to manage issues before escalating the alert to a manager.
·        View trends and reports – Create trends that analyze system data history and run fast, customized reports to track specific information and troubleshoot. All reports can be downloaded or printed for further analysis.
·        Enter operator data and store it to the cloud – Record laboratory data to integrate it with real-time system information.
·        Document Library – Upload and store your O&M and PLC files to keep all automation information in one place.
·        No expensive upgrades – InfoPortal is regularly updated as part of your standard subscription. Unlike on-premise SCADA packages, this eliminates the need for expensive equipment overhauls.
Just as a stand alone SCADA provides up to date information in a user friendly and easy to read format, so does Data-Command. Create as many displays as you want and customize them to your needs. Upload any standard format of pictures (jpg, png, gif, etc). They can be pictures of your equipment, cartoons of a pump or tank, or anything that makes sense to you. Attach them to a display object and dynamic tag from your equipment to get animation, or just use a static image.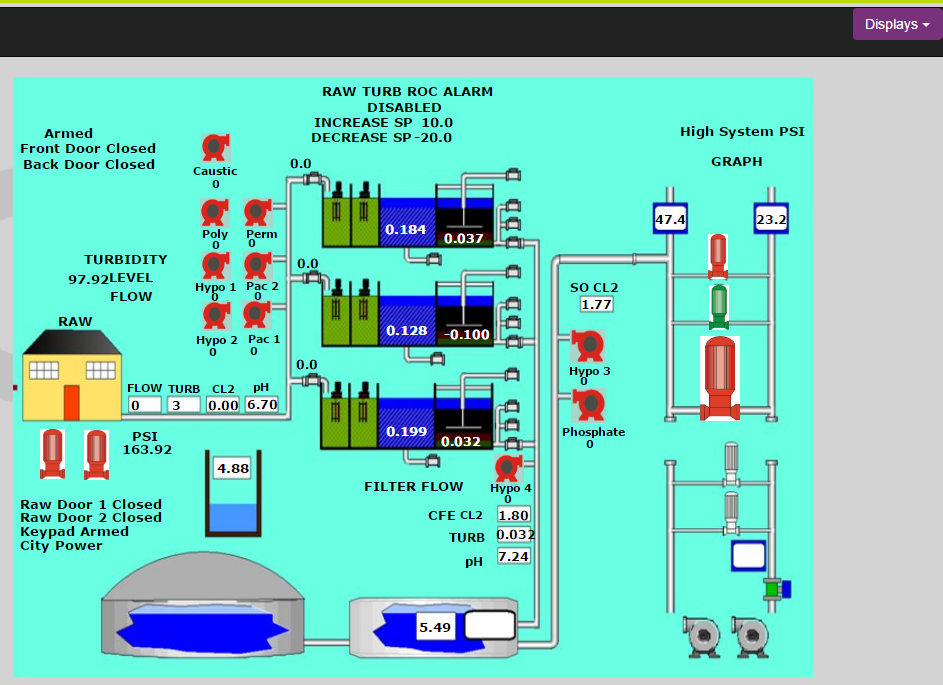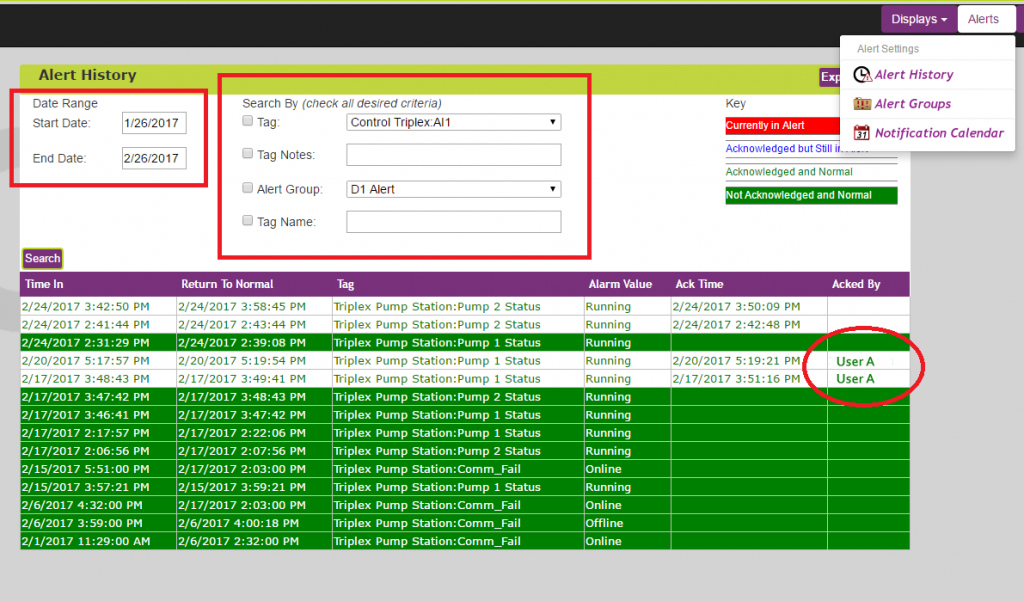 After configuring your device alerts, just as a stand alone SCADA, we keep a log of the time the alerts came in, its current status, and the time it returned to normal. But unlike a stand alone SCADA, our system is user based, which gives the customer the ability to see who acknowledged each alert. Additionally, our extensive notification system allows users to interact with the system via their mobile device, even a flip phone. Alerts can easily be searched, and notes applied to specific alerts. 
Without being able to see what has happened in the recent past, it is very difficult to troubleshoot an issue. Like stand alone SCADA packages, we have a full trending package for looking at data history. You can create as many trends as you like, give them descriptive names, and connect corresponding information on each trend. There are several types of trend displays available, such as line graphs and column charts. When you configure the time span and interval that you normally want to see, every time you click on that chart it is displayed just the way you want. Individual pen colors distinguish data. You can zoom in and out, and scroll across your data to see specific times and values.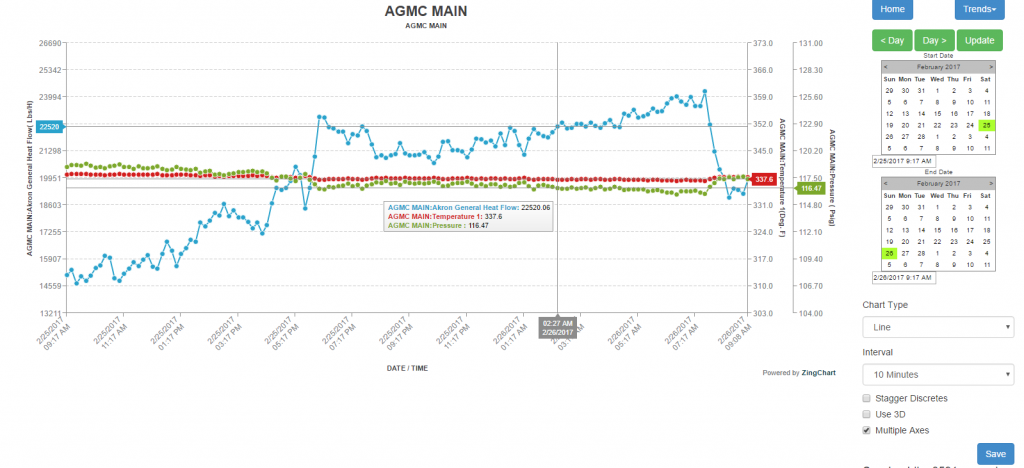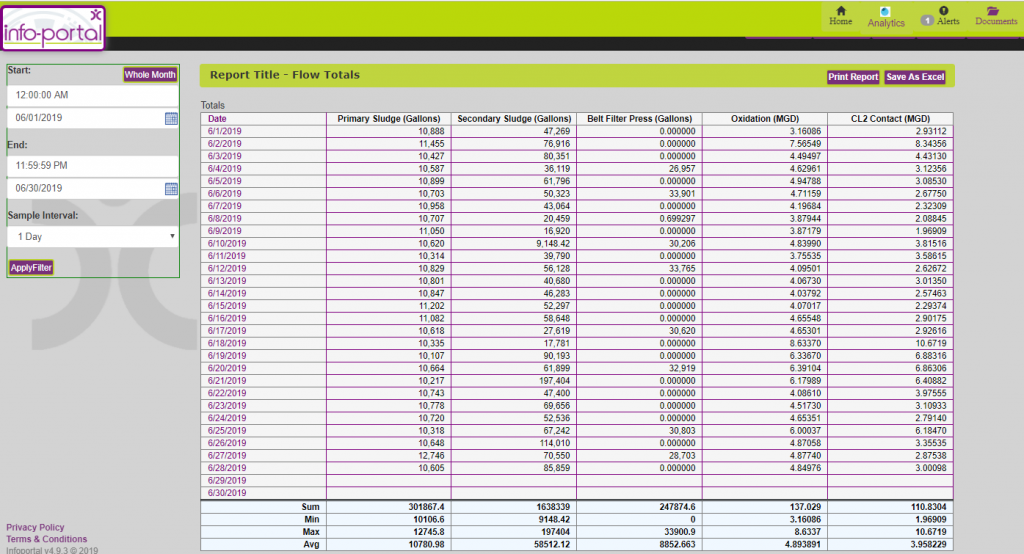 Data-Command provides previous and current data that is easily accessible. Reports can be customized to show specific data at a glance. Effortlessly adjust the date, duration, and interval to create the report you require. Track any information you need about run times, wet well levels, rainfall, steam usage, and more. Practically any function your facility performs can generate a report to help you monitor operations. 
Sending information to your existing SCADA
Want to see your remote location information on your centralized on-premise SCADA system? Data-Command can securely deliver
that information to OPC compliant on-premise SCADA packages.
We are not just a cloud based solution, we are also a transport mechanism.  We can collect information from remotely located stations
and populate on-premise SCADA systems for local display, alarming and trending.