How to Manage Alerts So They Don't Control You
Options to Customize to Prevent Alert Overload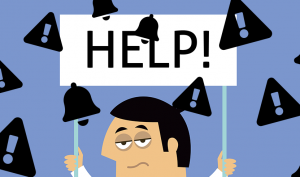 You get notifications on your mobile devices about pretty much everything – your neighbor, your neighbor's band, your neighbor's band's next concert. That doesn't even count more important notifications from your spouse, the news, or the weather report. By the time you get to work every day, you're probably already suffering from alert overload. Here are some scenarios when alert overload overwhelmed personnel, plus the features that can help you manage your alerts.
Alert Overload Scenario #1: More Personnel, More Confusion
Steve managed several departments, with multiple people in each. Throughout the day, he received the alerts that all other staff received in addition to the ones he needed to receive! What's more, the same was happening to everyone else! It became more difficult for people to decide which alerts were intended for them, so they began to ignore them.
How the Alerts Could Have Been Managed:
Setting User & Group Management Options
Add, edit, and delete groups of people – Steve could have created and based user groups on departments, schedules, locations, or any other elements that were part of their operation. Placing the right people in the correct groups would have helped everyone receive only the alerts they needed.
Allow users the ability to change alert thresholds – Many times nuisance alerts are caused by too tight of parameters or not enough deadband before resetting an alert, which causes them to go off more often than they should.
Using Alert Acknowledgement & Escalation
Alerts should always be categorized by chain of command (Responder #1, Responder #2, Responder #3/Supervisor, etc.). This allows each responder level a customized amount of time to acknowledge the alert. If an alert is not acknowledged by Responder #1, for example, then it can be escalated to the next in line and up the chain of command.
Alert Overload Scenario #2: This is Supposed to be a Vacation?
Brett was an operator working a lot of hours at the plant. So imagine his relief when he finally started a weeklong vacation. But the onslaught of alerts did not stop! The alerts continued as if he were still at work. Because he was on vacation, he did not want to acknowledge or escalate the alerts he received.
How the Alerts Could Have Been Managed:
Setting Vacation Schedule
Brett could have stopped all of his alerts while on vacation and had them restart when he returned to work.
Setting On-Call Schedule
If a vacation or illness leaves a gap in the typical work schedule, then coworkers might need to be on-call. If this is the case, then the acknowledgement and escalation processes should also be adjusted in the meantime.
Alert Overload Scenario #3: They Were Bothered in a Small Town
Maple Junction's plant was a small operation. Staff members juggled various responsibilities. Therefore, many staff received all alerts. Receiving non-critical alerts, however, on days off of work frustrated them (and their families, too)! Also, staff members were so busy that they forgot about alerts that came in earlier.
How the Alerts Could Have Been Managed:
Setting Alerts by Time of Day or Day of Week
Because there were few staff members to handle all operations at Maple Junction, removing users from certain alerts was not an option. Instead, alerts could be set by time of day or day of week. A non-critical issue could wait until normal working hours to be addressed. Personnel that only worked certain shifts only needed to know about the alert when they were working.
Using the Snooze Feature
It's a good thing alert systems have snooze features. When personnel use the feature, they are reminded of the alerts later in the day.
Alert overload doesn't have to happen to you. These suggestions should help you avoid this plight. Whether you spend more time reading about your neighbor's band's next concert is up to you.