Remotely Access industrial Information
Many solutions connect you with your information via VPN or remote computer control, creating a vulnerability. In order to allow you remotely access your industrial information, we deliver information to the cloud, which is essential for maintaining security.
It starts on your side and with your application
To achieve secure cloud-based monitoring, Data-Command requires a compliant device to deliver industrial information to our cloud solutions. These devices are able to interface with your current equipment and/or SCADA system in many different ways, which giving you the ability to remotely access your industrial information through our cloud solution.
Wired directly to your industrial equipment
If you need an inexpensive way
to get information and many features of an expensive
on-premise SCADA package, Data-Command has a cost-effective solution for you.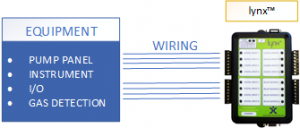 You can connect your digital
and analog outputs directly to our Data-Command Lynx device.
This device accepts voltages
from 12 to 28 volts AC or DC
as well as 4-20mA signals
for analytical or measuring equipment.
Communicate with a PLC or smart device
If you have an existing
remote PLC but no way to get that information to your SCADA, or you just want the information available from wherever you are, then the Zeus is for you.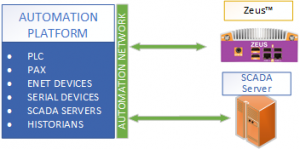 Our Zeus device communicates with your industrial equipment and securely sends it to
Data-Command. Then the
Zeus is configured for your specific application through an easy to use interface.
You can rest easy knowing
that if your on-premise SCADA loses the key historical information or has an issue, Data-Command
is still there for you and can deliver it to you.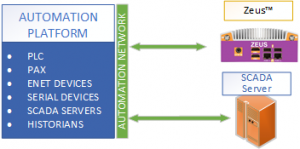 Our Zeus device communicates with your automation platform gathering information and securely sends it to Data-Command independent of your on-premise SCADA package for offsite storage of key metrics.
Cloud Interface to On Premise SCADA
Being able to see the information from your on-premise plant automation system from the cloud is easy and cost effective with Data-Command.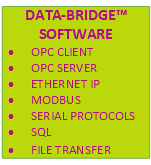 By retrieving information from your on-premise SCADA and/or OT network, our solutions are able to securely deliver your information to the cloud, where you can then remotely access it.
Securely Delivering Industrial information to the Cloud
Utilizing Existing Connections like DSL or Cable
If you already have an internet connection like DSL or cable – great! All of our equipment is capable of utilizing your existing connection to communicate to our cloud solution. 
Our packets are encrypted for end-to-end security. Information is delivered, so there is no need to open any inbound ports and you are never directly connected to your OT network like VPN, Remote Desktop, or other remote access solutions.