Data-Command is a cloud based solution that allows you to monitor and control your municipal water or wastewater plant, distribution and collection systems. Our solution provides this information in the form of alerts, displays, trends, reports, and more. Authorized users will have access anytime, anywhere from any device. We securely and reliably extends your industrial automation system to the cloud.

Why a Cloud Based Remote Monitoring Solution can help you
The ability to see and share your plant automation information, interact with your processes, and receive notifications when there is an issue is essential. A cloud based solution (CBS) allows you to do this from anywhere at anytime, securely. For security and reliability, the features of a CBS are unmatched by any on-premise solution that includes remote access.
As a Cloud Based Solution, costs are spread across many clients while delivering secure, reliable information and updates are part of the solution. These saving are passed on to you.
Our Cloud Based Solution, allows you to check in on operations while you are on the go. If you have an issue you can get a complete picture of the problem without leaving your current location.
Being Cloud Based Solution, all alert management is centralized and accessible 24/7. Gain peace of mind with alerts knowing that our solution will alert you when something is not working properly or there is an issue. 
Our Cloud Based Solution provide Municipalities the unprecedented ability to securely share operational information with neighboring municipalities that they work with to better serve all communities involved.
We help alleviate the stresses of your job by letting you know that all is well. Our cloud based solutions are with you all the time. We help you make better decisions by providing the information that you need. This helps you save money and stay compliant.
6 Things You May Not Know About Data-Command
Our solutions serve 100+ municipalities around the nation, and counting.

80% of our clients are small to mid sized municipalities.

We have been serving many of them for over 15 years.

100% of our clients use our alert and notification system.

Our solutions are 100% cloud-based utilizing major providers like Verizon, Azure, and AWS.

More municipalities than ever are securely sharing information freely through our solutions.

See Case study…
At the core of our Suite of Cloud Based Solutions is
Data-Command's Info-Portal™
The Info-Portal is a window into your system. It was created over the last 15+ years by feedback from our clients and our passion to provide the best user experience.  It provides easily access, storage and management of your information from a smartphone, tablet, or computer. 
Benefits of our Info-Portal
·        Enhanced security and reliability – High level of security and reliability without high level of expertise. Access fully encrypted SSL connection, multifactor authentication and a 99.99% availability track record.
·        Unlimited user access – Add any member of your team and customize each person's ability to receive alerts, analyze data and monitor operations.
·        Remote monitoring – Designed for mobile and desktop, the Info-PortalTM is accessible from any device anywhere you have internet access. View your plant operations, manage your team and ensure everything is running smoothly 24/7 from your office, on the road or in the comfort of your own home.
·        No expensive upgrades – Info-Portal is regularly updated as part of your standard subscription. Unlike on-premise SCADA packages, this eliminates the need for expensive equipment overhauls.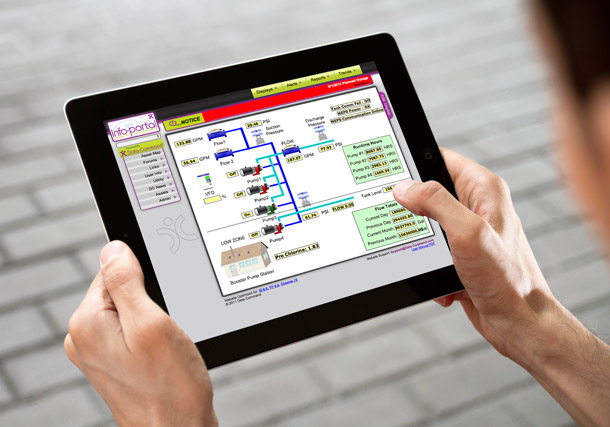 For more Information see...