Delivering Information
The Data-Command Data-Bridge™ software retrieves information from an industrial source, transforms the information into a new packet, modifies the format, fully encrypts the packet, then securely transmits the information to our cloud based data centers.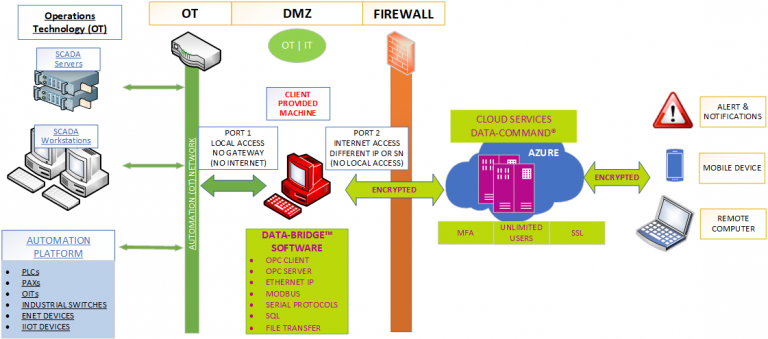 Most remote connection solutions connect you with the automation 
platform. Yet, if you can connect to it, so can everyone else.

Our solution delivers the data to the cloud. You are never directly connected to your information or Operation Technology (OT).
If you are using a VPN when you are connected to one part of your system, you are probably connected to everything. If this tunnel
is ever breached so is your entire system.
Data-Command® Data-Bridge Software
The Data-Command® Data-Bridge™ software resides on the end user's Windows-based computer platform. It is used to securely deliver information from your Plant Automation/OT system to Data-Command's cloud solution. Once there your key information is saved in the cloud, acting as a backup to your existing SCADA. Additionally, you can then view your automation information in customizable user displays, see it in a chart or report format, and receive notifications via phone or text message.
Features:
Easy installation and set-up

Works with any OPC compliant SCADA package
Securely Delivers information without direct connection to OT
Comes fully configured to communicate with Data-Command's
Info-Portal cloud solution.
Can safely reside on end user's SCADA computer
Connectivity
Modbus Master & Slave TCP/IP
Modbus Master Serial (RS-232 & RS-485)

Rockwell Automation SERIES 5/500 Serial (DF1)

Micrologix programmable logic controllers

SLC 500 controllers

PLC 5 controllers

Industrial Ethernet IP

Control Logix control systems
Compact Logix control systems
SLC 500
Micrologix programmable logic controller system

Remote OPC Client & OPC Server
SQL servers
Secure File Transfer
And more…
Windows XP or Windows 7 (32 bit)

Windows 7 (64 bit) or greater

Server 2012R2

Server 2016