Facility and Staff Safety
Today more than ever, we should take the time to protect our employees.  They are our most valuable asset so we can function on a day to day basis. Facility and staff safety can make a huge difference in the efficiency of your operations.  
General precautions at a lift station can be summed up as always avoiding unsafe acts and correcting unsafe conditions.  Apply and use as much instrumentation as you do in your main plants, don't skimp on safety just because you're not there 24/7.  There are electrical hazards, mechanical and pneumatic hazards, confined spaces, oxygen deficiency and enrichment, explosive gas mixtures, and fall associated hazards.  If possible you should have a "Dead Man switch" which, in case of emergency, can summon help.  These are used in water and wastewater plants. If an employee enters a lift station it triggers a timer through a door sensor so after a certain number of minutes you must check in, or a welfare check would be sent.  This could save someone's life especially if they are working alone.
Implement SOJPs for Every Situation
Standard Operating Job Procedures can help guide the employees on what to do if they encounter certain situations. This can prevent serious injuries and down time if they follow these guidelines.  
We as supervisors should want to protect our most vital resource, our staff. You can't just replace each of your staff as easily today as you could 15 years ago.  Qualified people are hard to find. Let's protect them and prevent heartache.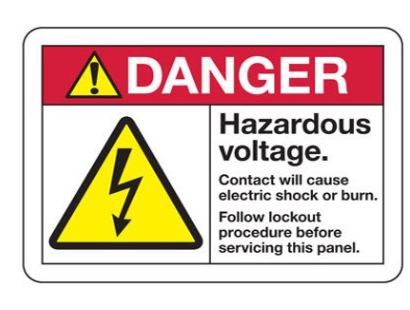 Electrical issues are a hidden aspect of energized electrical equipment that looks normal, until it's not. When working on electrical equipment you should always work in pairs and work on equipment you have been trained on. Part of this work should include Lock out/Tag out, always de-energize your electrical equipment before working on it.  When in doubt "DO NOT TOUCH". Also when you are working on a remote station and using power tools only use them when an observer is on hand and NEVER use them when standing in water, even if the tools are turned off you could still receive a shock. 
One of the reasons for working in pairs is in case of electric shock the person receiving the shock may stop breathing. Two minutes without oxygen and a person may start to lose brain functions. Death could be imminent unless someone intervenes. Those employees who know CPR and are available can start this life saving function.  Remember the old saying "it will never happen to me until it does". First aid training should be a requirement for all of your staff and it should include CPR.
Air Monitoring for Staff Safety
Air monitoring sensors come in all different applications. Do you have smoke detectors or CO2 detectors in your lift stations? Perhaps oxygen deficiency/enrichment sensors? Having these types of alerts could prevent exposure to these types of atmospheres and avert illness or injury to one or more of your employees. Even if these areas are not considered to be a confined space, the cost of a sensor is much less than the loss of one of your employees.  
In addition you could have methane, hydrogen sulfide, radon, carbon dioxide or you may even have some chemical feeders like CL2 or ferrous chloride in which detectors may be needed.   You will need some early warning if you spend significant hours at these sites.   
Each of these gases have different chemical properties.  Explosion ranges from 5% LE to 15.0% UEL for methane, 4.3% to 46.0% for hydrogen sulfide.  That's a pretty wide range so safety if a must.   
One other thing to consider, if you have these gases present already and normally have issues then a forced air ventilation system could be your answer.  A forced air system will exchange the air in the area and allow your staff to work in relative safety.  Remember all areas are only safe if you are taking precautions and are always vigilant.